Outdoor Kitchen Remodeling Tampa
Is your backyard missing something? Maybe it is an Outdoor Kitchen. When planning to add an Outdoor Kitchen to your backyard oasis there is a lot of variables that can contribute to the cost and Layout or Design of the Kitchen. The average starting cost of a smaller Outdoor Kitchen starts at $3,000 and that is just for a grill and about 6 feet of counter. The average cost of a full Outdoor Kitchen with appliances such as a fridge, sink, and grill starts at around $15,000.
The design of the outdoor kitchen should be based on the needs of the space, for example someone who only grills once every week or so doesn't necessarily need a full outdoor Kitchen. A Full Outdoor Kitchen is an ideal fit for a family who enjoys eating outside and grilling all the time or someone who likes to host events in their backyard.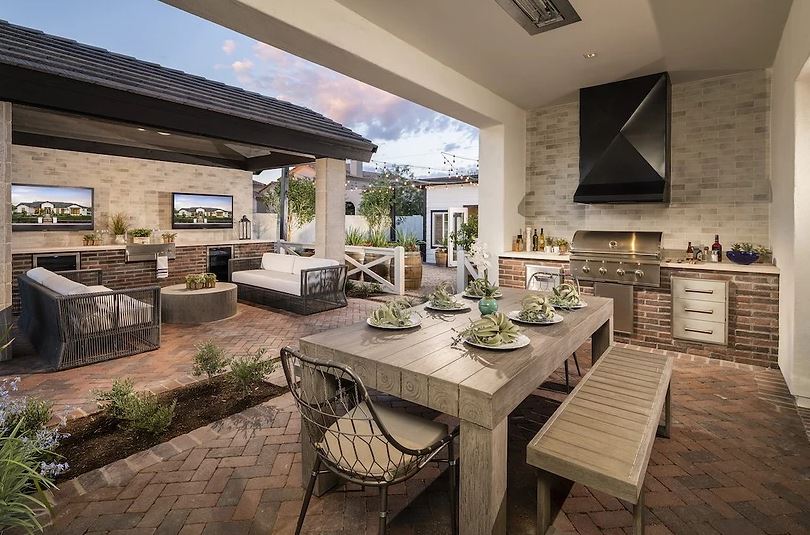 To plan for an outdoor kitchen an existing patio would be an ideal place to build the kitchen. Most generally the kitchen should be close to the house to avoid a long haul back and forth into the house for supplies.
The Layout should be very well thought out for everything that is desired in the space. If you want a sink, a fridge, a grill, lots of counter space, and storage in the kitchen a decent amount of space from the backyard is going to be required especially if an eating area is desired as well. The grill should be the center of the Kitchen. Ideally, there should be a decent amount of counter space on each side of the grill and sink. When designing the perfect Outdoor Kitchen remember the smaller details like electrical outlets for your favorite margarita machine and portable heaters to be able to enjoy it all year long.